It's all in the minutes… How long is your 1.0 Hour Massage, really?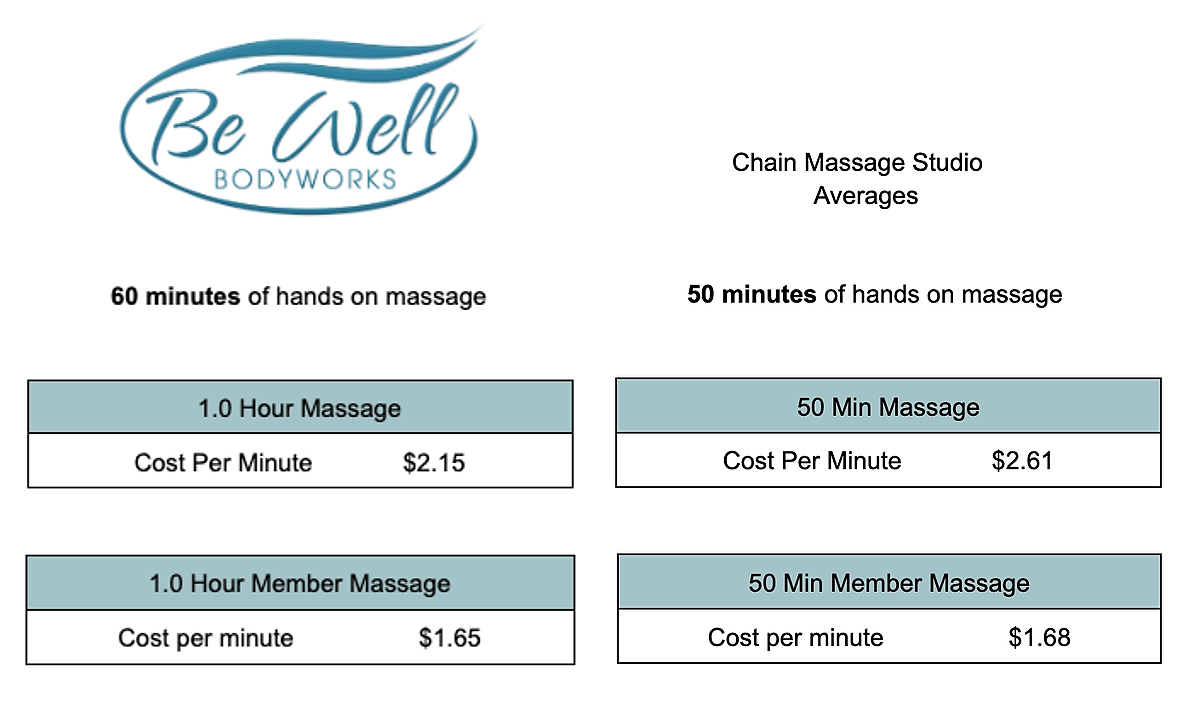 Effective November 1st, 2023,  Be Well Bodyworks will be raising our rates $10 per 60 minute session. The stunning part is even after we change our rates, our massages will still be less expensive than the local and national massage chains. How, you ask? Let me explain.
Many massage franchises rely on deceptive marketing. For instance, if you go to one of the local Massage Envy websites, the only pricing you will find is their "member pricing." If you are NOT a first time guest / NOT a member, then the non-member rate for a 50 minute hands on massage is $145 ($2.90 per min). Yes, you read that right, $145. You will not find this price anywhere on their website. You have to call to inquire, or be surprised when you come out of your massage and they inform you that the rate is $145 for a 50 minute massage, unless you commit to their year-long membership.
At Be Well Bodyworks our membership does not lock you in for a year. And, if a member does not come in for several months, and we can't reach them, we will automatically cancel their membership. We do not feel good charging someone for something that they are not receiving.
Not all One Hour Massages are created equal. All well known massage franchises offer 50 minutes of hands-on treatment time, and call that a One Hour Massage. At Be Well Bodyworks, our One Hour Massages are 60 minutes of hands-on treatment. That added 10 minutes makes a BIG difference and allows therapists to work on every part of the body, without feeling rushed. After our price change on November 1st, our per minute rate will still be .75 cents less than Massage Envy's, coming to $2.15 per min vs their $2.90 per minute.
Our member rates are comparable to other local, independent massage businesses (see our pricing graphic below). But, when you compare the high caliber and depth of experience of our therapists, then our massage rates are truly the best in town.
The good news is that if you are an existing member with us, your monthly membership auto-debit will remain $89 until January 2024. Additional member massages will go from $89 to $99 for everyone (new and existing members), November 1st, 2023. New and re-activating members, after November 1st will be signed up at the low $99 monthly rate.
Thank YOU so much for 9 years of patronage and support. I feel sooo blessed to have such an amazing team of practitioners, staff and clients. It continues to be an honor to provide stellar, results-focused massage therapy services to the community.
Kelly Hander
Owner