Welcome to Be Well Bodyworks
We look forward to welcoming you to Be Well Bodyworks for your first appointment. We are personally committed to your overall well-being, and we hope to show you how customized, high-quality massage therapy and other services can help support your health and wellness goals. Our services are a form of specialized health care that can lead to tremendous beneficial outcomes, so join us to not only relax and unwind, but to discover how our services can make a true impact on your life.
Our focus and promise is to provide you with the highest quality massage therapy treatments so that you may recover from pain and injuries, as well as take preventative measures for a healthy future.
Make the most of your Be Well Bodyworks experience:
When you schedule, please let us know if you prefer a female or male therapist and the type of massage you would like. Don't know which type? We recommend a Swedish massage as a good place to start. It is very relaxing and therapeutic.
Please arrive 15 minutes early. Check in with the front desk and fill out a confidential health chart to let us know about your injuries, history and medications.
Wear comfy clothing.
Turn off your phone. View this time as an investment in your physical and mental well-being. Your e-mails will be there when you're done!
A massage therapist will come to greet you and show you to the restroom. He or she will review your health chart.
We believe that communication is of utmost importance. Tell your therapist if this is your first massage. He or she will explain the process and will help place you at ease.
We use hypo-allergic lotions, but please let us know if you have allergies.
Your massage therapist will leave the room, and you will undress to your comfort level. Some choose to disrobe completely, while other remain partially clothed. Either option is perfectly okay.
Next, you will lie on the table under the top sheet and blanket.
Your massage therapist will give you a few minutes and will knock before entering the room.
Getting on the table. If you wish, your massage therapist will help you. Pillows or cushions may be used to give support. If lying down is uncomfortable, most massage therapists can work with you in a seated chair.
Your modesty is always respected, and we only undrape the areas being worked on. The face cradle and table heat may be adjusted for your comfort, and pillows or cushions will be used for your comfort and support.
Remember, this is YOUR massage and speak up if you would like more or less pressure. Again, communication is key.
Special Concerns. Always tell your massage therapist if the pressure being used is comfortable. Indicated if you do not want oil or lotion, or if you prefer them unscented. Tell your therapist if you are hard of hearing. If you are too cold or hot, the heat or your covers can be adjusted.
Relax and enjoy your massage.
At the end of your treatment, your therapist will leave the room. Give yourself a few minutes to reorient from the state of deep relaxation, and then dress.
Your therapist will take you to the lobby, offer you water and discuss your future recommended treatments.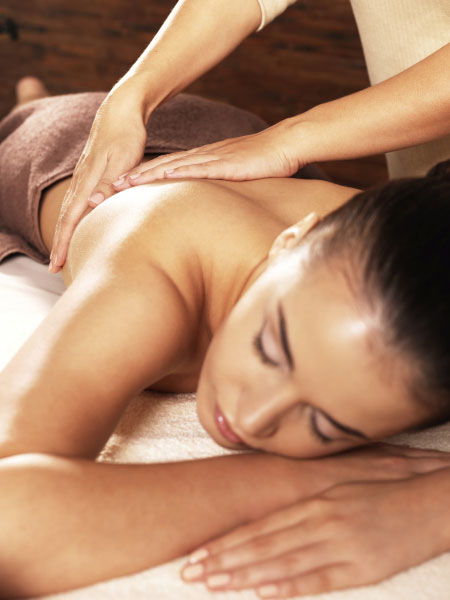 Cancellation of an Appointment:
Appointment times are held for each client individually. This time is set aside for you as a reservation. Please provide us with at least 24 hours notice for cancelling or rescheduling an appointment to avoid being charged the full session fee. Exemptions for emergency cancellations are determined on case-by-case basis.
Late Arrival:
Sessions will begin promptly at the scheduled time. If you are running late, please note that you may not receive the fully allotted time of the scheduled session because an extension may not be possible.
Illness:
In order to maintain a healthy environment, we ask that you reschedule your appointment if you are sick with a cold, flu, or have a fever. Drink lots of fluids and stay in bed, and we will see you when you are feeling better.
We provide competent and professional massage but do not diagnose or prescribe medical conditions. Clients are treated with respect and dignity regardless of their age, gender, race, nationality, sexual orientation, religion, economic status, body type, political affiliation, state of health or personal habits. Personal and professional boundaries are respected at all times. Privacy and confidentially are maintained at all times. Sexual harassment is not tolerated. If it occurs, we reserve the right to end the session immediately.